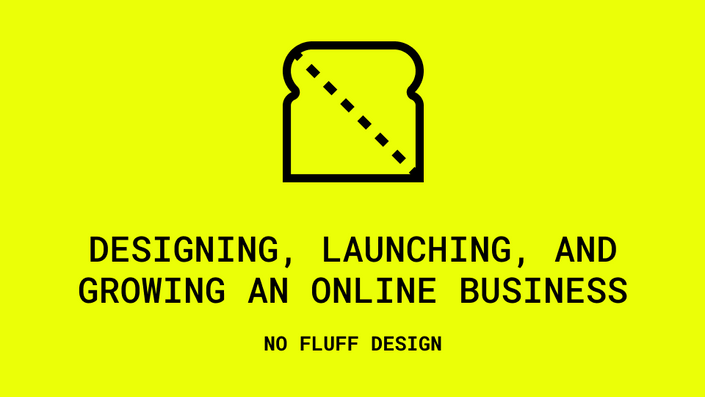 Designing, Launching and Growing an Online Business
Make a living building and selling digital products with a step-by-step blueprint.
Course Information
This course is a no-fluff blueprint for starting an online business. There are four components:
Design:

Video training that will teach you the skills you need to design digital products. From color and font to designing user interface elements, you'll learn the theory and implementation. See the details in the curriculum below.

Build:

Realize your design in HTML, CSS and Javascript. You'll learn the skills to build any kind of web app. Then you'll learn how to host it online for the world to use.

Grow:

How do you get people to pay for your product? These aren't hand-wavy motivational explanations. You'll see the exact growth strategies we've used to build 7-figure businesses - from designs through launch email sequences and conversion statistics.

Bonus:

After you take our course and launch a product, we will email our entire list of 85,000 people to help you sell your product right out of the gate!
This course is built and maintained by John Omar and Khari Slaughter.
Here's a little background from John:
I've become somewhat of an expert on making money online.
It all started with my company, Bitfountain, which was a platform for learning iOS development. Khari was Bitfountain's designer.
I started the company because I was sick of working for other people, hated going to an office, and wanted to travel the world.
Bitfountain eventually grew to a 7-figure internet company that allowed me to live in 4 countries and travel to many more over 5 years.
Fast forward to today - Khari and I have launched products individually and as a 2-person team. We've been earning our incomes online since 2011.
We created this course because our success online is repeatable. It doesn't require venture capital, a computer science / design degree, or even a team.
What this course is not
We don't want to trick anyone into purchasing this course, so it's best to clearly state what this course is not.
This is not a motivational course where 75% of the content is meant to get you pumped up about creating an online business. There's no fluff in the course. Videos are as long or as short as they need to be to get the concepts across.
Almost all of the videos are recorded in the over-the-shoulder style where you see what we see on our screen. There will be very few lectures where you watch us talk about a powerpoint presentation. This course is meant to teach you real skills. The best way to do that is by showing you what we are doing, not telling you.
High production videos with graphics and animations are kept to a minimum because they don't help you launch products.
What you'll learn
The goal is to help you develop the skills you need to launch any online business.
The first 2 modules will teach you the design skills you need.
Modules 3, 4, and 5 will teach you all the coding you'll need to know to build your product.
In the final two modules you'll learn how to find customers who pay you. You'll see the exact methods we've used to grow businesses. Again, this isn't a fluff business course. You'll see the emails we sent, the conversion statistics, pricing and more.
Most importantly, when you launch a product we're going to help you sell it. We will email our list of 85,000 people featuring your product. We're not going to take a cut of your profits or ask for anything in return.
See our curriculum below for a precise overview of what you'll learn.
More details on the bonus
Finding people to pay for your product is likely a harder task than building the product.
Although this course does teach you exactly how to find customers, we think we can give you a huge boost right when you launch.
We're going to tell our audience of 85,000 people about your product!
You'll get page views, feedback, and probably even paying customers.
This opportunity alone is worth the cost of the course.
What's in it for us? Why would we boost your product to a list that we work so hard to build?
Because your success is our success. If you take this course and launch a product, we want to tell our audience about it so they can see how effective our material is!
Your Teachers
John Omar
I started creating online businesses so I could support myself while I travel the world and work on my hobbies. It's been 7 years and my online businesses are still supporting me as I travel and enjoy time with my wife.
My previous company, Bitfountain, taught iOS development online with over 100k students enrolled in our courses.
I'm scared of living a life on the 9:00 to 5:00 grind, so I bootstrap companies and make money online in attempt to be the master of my own time.
Hopefully I can inspire you to do the same.
You can contact me on twitter @johnomarkid.
Khari Slaughter
I come from a fine arts background. After moving overseas, I quickly learned that painting and sculpture aren't compatible with the nomad lifestyle. Not creating isn't an option so I went digital and never really looked back.
I have made a living designing digital products since 2014. Having worked in both offices and as a remote freelancer, I can honestly say that each suffers from one common problem: directly exchanging time for money.
I want the freedom to make art and memories with people I care about around the world. You know what I mean? That's why I build products online.
You can contact me on twitter @kiikoblak.
Frequently Asked Questions
When does the course start and finish?
The course starts now and never ends! It is a completely self-paced online course - you decide when you start and when you finish.
Can I access all of the videos now?
No. The course is under development. You'll get access to one video each day. We aim to have all of the videos done by the end of September.
How long do I have access to the course?
How does lifetime access sound? After enrolling, you have unlimited access to this course for as long as you like - across any and all devices you own.
What if I am unhappy with the course?
We would never want you to be unhappy! If you are unsatisfied with your purchase, contact us in the first 30 days and we will give you a full refund.
Can I launch any kind of product to the No Fluff email list?
We reserve the right to decide whether or not to launch a given product. We will not launch products that are offensive to certain groups or inappropriate.